MARKETING magazine presents
Mob-ex Awards 2020
#MobexAwards
EVENT DETAILS
Date: October 2020
Venue: Singapore
Dress Code: App-tastic! (Fun, playful, semiformal)
Networking drinks reception starts from 6.30pm
#MOBEXAwards
KEY DATES
Entry Submission Deadline: 24 July 2020
Finalists Announced: September 2020
Gala Dinner & Awards Ceremony: October 2020
About The Event
Back for its eighth year, the region's top mobile marketing awards Mob-Ex, will reward mobile excellence – the most innovative and forward thinking mobile marketers in the marketing industry today across South Asia, Southeast Asia and ANZ regions.
The awards will once again be judged by an independent panel comprised of senior, client-side marketers and mobile experts who have vast experience in the mobile platform. Don't miss your chance to set the benchmark for outstanding merit in building successful mobile marketing campaigns.
34 categories are open for entry with new categories available to cover a more diverse scope across the mobile platform. Finalists in the Company and Team categories will be vying for Gold, Silver and Bronze trophies. Finalists in the individual-based categories will be competing for one Gold. The leading performers across all categories will receive the highest honours of Best in Show – Brand and Best in Show – Agency.
You have until Friday 24 July 2020 to complete and submit your entries.
We wish all entrants the very best of luck with their submissions!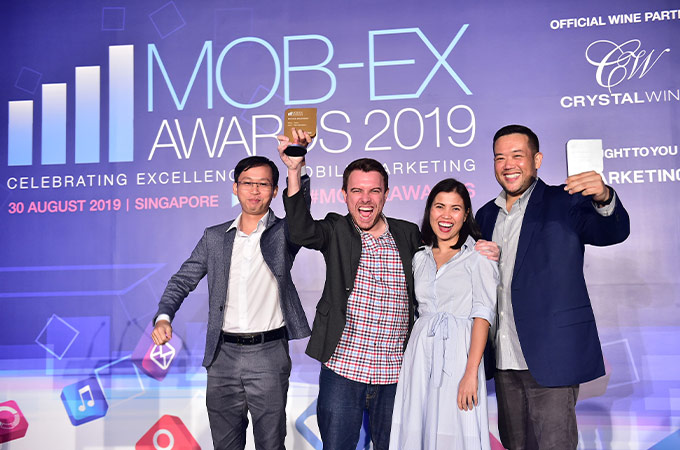 Why Enter?
Honoring and awarding mobile excellence.
Since its inception in 2013, The Mob-Ex Awards has grown considerably but remains focused on its original mission: to reward leading organisations that have pushed their limits and achieved success on mobile platforms, through sound and innovative mobile marketing strategies.
Showcase your work to judges.
An expert panel of industry leaders and senior marketers will judge the finalists and winners of the Mob-Ex Awards 2020. The winners of the Mob-Ex Awards 2020 represent the very best in the industry and will feature in a print edition of Marketing magazine.
Who should enter?
Entries are open to any active, launched or updated marketing initiatives, campaigns or projects that were conducted between January 2019 to March 2020 in South Asia, Southeast Asia and ANZ.
Recognising your team's effort!
Finalists and Winners of the Mob-Ex Awards 2020 will be celebrated at a grand ceremony and gala dinner on October in Singapore.
Entries will close on Friday 24 July 2020 so make a start today!
Panel of Judges
Our jury of senior, client-side marketers will be announced soon. Please check back for regular updates!
If you're interested in joining the judging panel of industry experts and senior marketers, please contact Shan Ee on shanee@marketing-interactive.com
The Mob-Ex Awards 2019: Articles from MARKETING
EdgeProp Singapore wins gold for Best Property App at
Mob-Ex Awards 2019
Unilever Food Solutions wins big at Mob-Ex Awards 2019
Let's Get It Started
Ready to be recognised as the best in the industry?