#AsiaEcommerceAwards
Gala Dinner: 13 January 2023
Venue: Marina Bay Sands, Sands Expo & Convention Centre
Dress Code: Gong Xi Fa Cai (Chinese new year red theme)
5 YEARS OF ECOMMERCE EXCELLENCE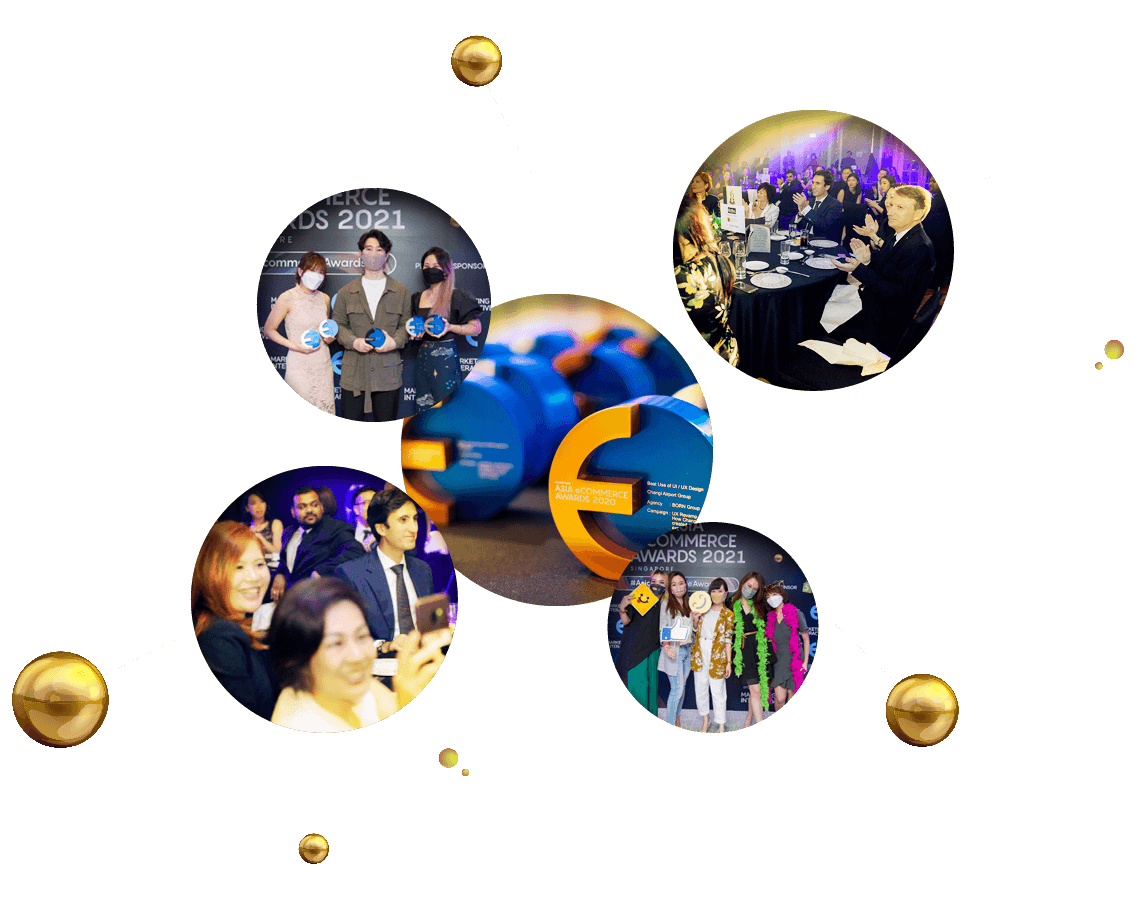 The Asia eCommerce Awards returns for its fifth year to recognise and reward best in class eCommerce practices across all countries in Asia & ANZ.
As more and more businesses turn to eCommerce as an essential part of their business operations, the Asia eCommerce Awards provides the perfect focal point for improvement.
This is the premier platform for you and your team to truly outshine the competition and come out on top as the elite choice in your space. The Asia eCommerce Awards will crown the industry's champions for Brands, Marketplaces / eRetailers and Agencies. Finalists across all categories will be vying for Gold, Silver and Bronze trophies.
Designed to recognise excellence in eCommerce across all countries in Asia & ANZ, there are 37 enterable categories offered to reflect the breadth and creativity of the industry and showcase the best industry players from brands and eRetailers to agencies and enablers.
**Countries in the eligible regions include the following: Australia, Bangladesh, Bhutan, Brunei, Cambodia, China, East Timor, Hong Kong, India, Indonesia, Laos, Malaysia, Maldives, Myanmar, Nepal, New Zealand, Pakistan, Papua New Guinea, Philippines, Singapore, Sri Lanka, Thailand and Vietnam.
Best eCommerce Brand
Entertainment
Best eCommerce Campaign
Email
Best eCommerce Campaign
Social Commerce
Best eCommerce Marketplace / eRetailer
Consumer Products
Best eCommerce Marketplace / eRetailer
Travel & Hospitality
Best
Holiday / Seasonal Marketing eCommerce Campaign
Set yourself apart from the countless eCommerce initiatives out there and demonstrate to our expert judges why you should be a winner at this year'sAsia eCommerce Awards.
You have until 16 September 2022 to complete and submit your entries.
We wish all entrants the very best of luck with their submissions!
MARKETING-INTERACTIVE prides itself on developing events that reflect an ever-evolving industry and on delivering the best possible opportunities for those who take part.
By entering the Asia eCommerce Awards 2022 you can:

Increase credibility and gain industry-wide recognition for your teams and company

Showcase your best work, achievements and innovations to our independent, industry expert judges (potential future clients and partners)

Receive extensive coverage across MARKETING-INTERACTIVEand social media, before and after the event

Promote your award-winning eCommerce approach to your consumer base

Raise your profile to help attract new business

Remind current clients and industry that you are still the best

Celebrate your successes across your company and project teams

Boost team morale, motivation and reward outstanding work
Make sure your hard work doesn't go unnoticed and your work gets the recognition it deserves!
Entries will close on 16 September 2022 so start your entry today.
BRAND HIGHLIGHTS FROM 2021