Marketing magazine presents
Marketing Events Awards 2019
#MarketingEventsAwards
13 September 2019, Fullerton Hotel, Singapore
Event Details
Date: 13 September 2019
Venue: Fullerton Hotel, Singapore
(venue map)
Dress code: Black tie
Networking drinks reception starts from 6:30pm
#MarketingEventsAwards
The Marketing Events Awards is back for an eighth year to recognise and reward excellence in event marketing across Southeast Asia, South Asia and ANZ regions.
This is the premier platform for event marketers and planners to showcase their creative excellence, successful strategies and operational precision.
Set yourself apart and demonstrate to our expert judges why you should be a winner at this year's Marketing Events Awards.
You have until Friday 28 June 2019 to complete and submit your entries.
Finalists and winners will be celebrated at a fabulous gala dinner ceremony on 13 September 2019 at the Fullerton Hotel, Singapore.
We wish all entrants the very best of luck with their submissions!
Event Deadlines
Entry Submission Deadline:
28 June 2019
Finalists Announce:
August 2019
Gala Dinner & Award Ceremony:
13 September 2019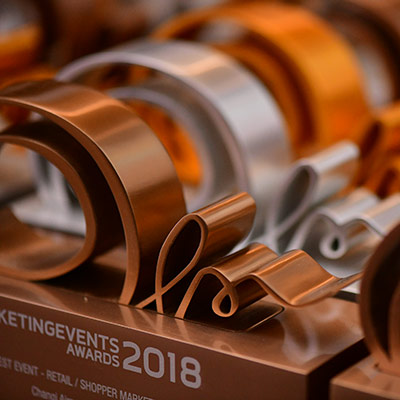 Why enter?
Marketing prides itself on developing events that reflect an ever-evolving industry and on delivering the best possible opportunities for those who take part.
By entering the Marketing Events Awards 2019 you can:
Showcase your best work, achievements and innovations to our independent, brand-side judges and potential clients
Increase credibility and gain industry-wide recognition for your events, teams and company
Receive extensive coverage across Marketing magazine and social media, before and after the event
Raise your profile to help attract new business
Remind current clients that you are still the best
Celebrate your successes across your company and project teams
Boost team morale, motivation and reward outstanding work
Make sure your hard work doesn't go unnoticed and your events get the recognition they deserve!
Entries will close on Friday 28 June so start your entry today.
Our expert judging panel will be announced soon. Please check back for regular updates.
For judging opportunities, please contact Wei Kang at +65 6423 0329 or email him at weikang@marketing-interactive.com
Sponsors & Partners
For sponsorship opportunities, please contact:
Let's Get It Started
Ready to be recognised as the best in the industry?